Put the headline here.
We hope you enjoy the tandem photos
2004 Trek T 2000, 1998 MT3000 Cannondale
by Allen/Laura
(Beaumont Texas)
We began tandeming about 8 years ago as my wife is my best friend and stoker. We are not a fast team but enjoy the rides and spending time together. We do a lot of organized rides. We only wish there were more (we are the only one) tandem couples in the area. Houston has a tandem club (HATS) but they are almost a 2 hour drive to there events.


We just purchased the Mountain Tandem a few days ago. Our first ride on it showed us that off road riding is completely different than road riding! We will have to hone our skills.
The best thing about riding the tandem is the time together and that it brings a smile to everyone you see. Who cannot love a bicycle built for two!!!
Join in and write your own page! It's easy to do. How? Simply click here to return to Show off your bike!.
Search this site
---
What's your passion?
Why not share that passion with other people? The company we use to get our message out about tandem bicycles has wonderful tools and support.
Unlike many web hosting companies, SBI goes beyond just "putting up a site" and shows you how to run it like a real business.
With comprehensive research tools, unbelievable instruction on how to make the most of your ideas and better than you can believe support they are the right answer to help you share your passion, no matter what it is, with the world.
Click here to get more information about SBI and how they can help you.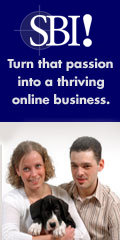 ---
---