Put the headline here.
We hope you enjoy the tandem photos
Barcroft Prototype Back to Back Tandem
by Harding Rome
(Houston, Texas)
This is my second back to back tandem. My first, the Flevo, is quite a tandem and we love it. I wanted something a little more compact and maneuverable, however. I found it in Bill Cook's back to back tandem. Bill is Mr. Barcroft Cycles. He built this prototype for himself to race. I was lucky enough to be able to talk him out of it. It's almost 3 feet shorter than the Flevo and much closer to the ground, making it alot easier to start and stop. We've had it for 4 months now and like it alot. For more info check out our blog at tandemania.blogspot.com.
Search this site
---
What's your passion?
Why not share that passion with other people? The company we use to get our message out about tandem bicycles has wonderful tools and support.
Unlike many web hosting companies, SBI goes beyond just "putting up a site" and shows you how to run it like a real business.
With comprehensive research tools, unbelievable instruction on how to make the most of your ideas and better than you can believe support they are the right answer to help you share your passion, no matter what it is, with the world.
Click here to get more information about SBI and how they can help you.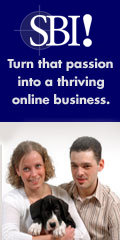 ---
---