Bicycle brakes explained
Bicycle brakes are so much better today than in my childhood.
Major types of bicycle brakes.
What could be more important than stopping on a bike. You can have all of the flashy gear, super fancy shoes, best pedals but without brakes, you are just a hood ornament waiting to be mounted. This is doubly true when riding a tandem. There are two defining types of bicycle brakes on modern bikes:
Which type you choose will depend on what you want to accomplish and what kind of bike you are riding.
Rim Brakes
These are the brakes most people think of when they think bicycle brakes. You will find three types of rim brakes on most bikes:

Side pull (road bikes and tandems)
Direct Pull Cantilever (mountain bike, tandems and hybrids)
Center pull Cantilever (cyclocross bikes)
The side pull brakes were the first rim brakes that came on the scene were growing up and needed something besides a coaster brake on their after the end of World War II. The Leave-It-to-Beaver generation kids bikes. Some bikes appeared with side pull brakes on them that were marginal at best. You can still see bicycle brakes of this quality on Wal Mart and other very low end retailer bikes that I wouldn't wish upon my worst enemy.


Side pull brakes evolved into the very sophisticated systems available from Shimano, Campagnolo, Zero Gravity and many others. When properly installed and adjusted, these brakes are very, very good.
Santana, a premium tandem manufacturer, uses side pull brakes on the front of their road tandems.

Direct pull cantilever brakes, also universally known as the "V-Brake"
because Shimano brought out a brake under this name and it stuck, are used on most mountain and hybrid bikes today. Here is a picture of the V-Brakes on my wife's mountain bike. They are a little dirty because she was out riding and the trails are covered with leaves that stick to everything. These brakes offer very good stopping power and little maintenance. You can easily change the tire on a bike with this type of brake because when you release the cable a great deal of room is created facilitating the easy removal of the wheel.

Hub Brakes
When you think of hub brakes, you probably think of the old coaster
brake you found on the Schwinn single speed bike from your childhood. To slow down you would simply apply pressure backwards against the chain and the force would be applied to the shoes inside the hub, slowing you to a stop. More advanced hub brake systems have come along.

Ideal for commuters and beach cruisers,

drum brakes

are one type of hub brake that you can find on both single bikes and tandems. These brakes offer long service intervals and decent stopping power. While an ideal primary braking system on a city commuter's bike or beach cruiser, this type of brake is a good choice as a secondary braking system on a tandem because you will find this on the rear wheel.

You

would not

want to use this as your primary brake because it cannot generate enough force to stop a tandem without skidding the rear tire. It is a really good choice as a secondary brake because it will allow you to control your speed on long downhill runs without overheating the rim and possibly blowing a tire as could happen with rim brakes. If you think about the amount of weight on a tandem, 300 or more pounds, you want to ensure you have a way to control your speed that will be able to dissipate the heat that all of this weight can generate.

One other type of hub brake that is becoming more and more popular is the

disc brake

. I have a page dedicated to that type of brake here.
Search this site
---
---
What's your passion?
Why not share that passion with other people? The company we use to get our message out about tandem bicycles has wonderful tools and support.
Unlike many web hosting companies, SBI goes beyond just "putting up a site" and shows you how to run it like a real business.
With comprehensive research tools, unbelievable instruction on how to make the most of your ideas and better than you can believe support they are the right answer to help you share your passion, no matter what it is, with the world.
Click here to get more information about SBI and how they can help you.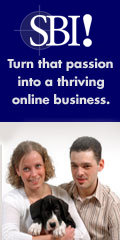 ---
---