Want to know about a bicycle built for two? You have come to the right place.
"Love to ride my bicycle built for two!"
So you are considering the most common form of a tandem, the bicycle built for two. The
tandem bicycle for two people is the standard of multi-rider bikes out there. When you ask someone about a tandem bicycle, they will naturally think of a 2 seat bike. Granted, there are many more types of tandem bikes out there but this is what most people think of.
Here are some visitor submitted photos of a bicycle built for two.
The most common form of a two person tandem is the road tandem as shown in the picture above. These bikes are generally built with 27" wheels with tires for the specific type of riding , a more forward seating position as on a standard road bike and have gearing that will allow them to both climb steep hills with ease and roll quickly on the flats.
Some differences you will see on road bike tandems out there are:
the swapping of 26" wheels for the 27" wheels. 26" wheels will generally accelerate and climb better than a 27" wheel. They will also give you a more precise steering feel over a 27" wheel. 27" tandem wheels will tend to be more "stable" on the flat runs but can take more effort climbing hills and getting up to speed. This is a hotly debated topic on many newsgroups and you should try both to make up your own mind.
softride beams or suspension posts on the back to give more comfort to the stoker for those unexpected bumps.

A drivetrain that allows either the captain or the stoker to coast independently of the other. Davinci Designs does a really nice job with their Independent Coasting System. I have this this system on my current tandem and can't imagine riding a tandem without it anymore.
Search this site
---
---
What's your passion?
Why not share that passion with other people? The company we use to get our message out about tandem bicycles has wonderful tools and support.
Unlike many web hosting companies, SBI goes beyond just "putting up a site" and shows you how to run it like a real business.
With comprehensive research tools, unbelievable instruction on how to make the most of your ideas and better than you can believe support they are the right answer to help you share your passion, no matter what it is, with the world.
Click here to get more information about SBI and how they can help you.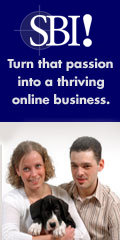 ---
---