The right bicycle clothing will increase your comfort level.
"With the right bicycle clothing I commute no matter the weather". Jeff
Riding in any weather is possible if you are wearing the right gear. You won't care if the weather goes south. Just like the Scouts say, layering of your clothes is the way to regulate body temperature. It will allow you to ride year round. The same goes for when the weather is very hot. You can often stay cooler on your bike in hot weather with a two layer shirt setup than just one.
Bicycle clothing is not just for looks, there is real science behind those fabrics and designs.
The advice that follows doesn't just apply to riders of tandems, it works for single bikes equally as well.
I'll break this page up into two basic sections about bicycle clothing:
Winter or other inclement weather
and from there discuss the different types of clothing and show some examples. In order to keep the page from being too long, I'll break out to different pages where applicable.
Inclement Weather
Riding in the off-season or just plain nasty weather can mean a whole bunch of things. It really depends on where you live. Here in the Midwest you have to be prepared for lots of wind, rain and cold weather, not to mention snow.
In other parts of the country, the Pacific Northwest for example, you have the constant threat of rain nearly the whole year round. A rain jacket
is a must there.
The right bicycle clothing, in the proper amount, is a very important part of keeping the ride enjoyable. Here are some tips and types gear that will make your ride more enjoyable.
The most common thing you think about when speaking of off season riding you think about cold and rain. If it wasn't cold and rainy, you wouldn't think too much about your bicycle clothing would you?
As I said above, it really matters where you live to determine what your off season clothing will consist of. Rainy weather doesn't necessarily mean cold weather but snowy weather does. I'll focus on cold/snowy weather to help those that want to extend their single and tandem bicycle riding into the off season.
Let's take a look at the different areas of your body and see what you can do to make your ride more comfortable.
In order to keep the length of the page manageable, I have put a link to new pages for each part rather than making the page a mile long.
For summer or other warm weather riding, you really need to be concerned with two different articles of bicycle clothing: shorts and jersey.
Let's look at both of these in more detail. In the interest of keeping this page shorter than War and Peace, I'll have a link to a separate page for each of those items.
Search this site
---
---
What's your passion?
Why not share that passion with other people? The company we use to get our message out about tandem bicycles has wonderful tools and support.
Unlike many web hosting companies, SBI goes beyond just "putting up a site" and shows you how to run it like a real business.
With comprehensive research tools, unbelievable instruction on how to make the most of your ideas and better than you can believe support they are the right answer to help you share your passion, no matter what it is, with the world.
Click here to get more information about SBI and how they can help you.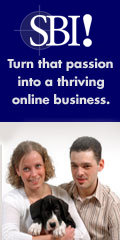 ---
---