Need to stay informed? Try a bicycle computer.
"I love having my own bicycle computer on back of the tandem."

Remember those mileage counters we used to have on our bikes when
we were kids? They mounted to the fork and were right down at the wheel. You had a little thing that went on the spokes and every revolution of the wheel would turn at geared wheel on the counter. It seemed the coolest thing on your bike. It was right up there with tassles on your handlebars and cards in your spokes.

Pretty soon your noticed that it wasn't working any more. It couldn't have been from all of the jumps that you took and little wheel was no longer in line with the pin that was mounted on one of your spokes could it?


Next thing that I remember is getting a speedometer that mounted to my bike. It had a cable that ran down to the front wheel and a small gear interfaced with a slotted ring on the front wheel. Pretty fancy for the day. It worked pretty well although you would get problems like a jumping needle as the lubrication in the cable began to go. One day you would be riding along and then you would see that the speedometer was stuck at 10mph and wouldn't move. Bummer

Jump forward to today. Modern bicycle computers are pretty nice. They can show altitude, temperature, speed, distance, average speed, wattage and more. The sky is pretty much the limit when it comes to the data a bicycle computer can show. You can save this data (depending on your cycle computer) and upload it to a website for later analysis by you or your coach.


Let's take a look at some of the different types of bicycle computers that are out there. These links will jump you to the relevant section you are interested in:

Basic Cycle Computer-Wired and Wireless
Integrated Cyclecomputer-Campagnolo and Shimano
Advanced Cycle Computer-GPS based
Power Meter-Take it to another level


Basic Cyclecomputer
This is pretty much your meat and potatoes cycling computer. It will give you things like speed, distance, time and the average speed you rode. For most people and

for the back of a tandem

, this is all they need. You just want an idea of how far and how fast you went.
Good basic bicycle computers are made by Trek, Cateye, Polar, Sigma and Planet Bike.

You can see the various models below in the grid. Click on any one of them to see more information about the particular model.


Wired Bicycle Computer Models

| | | |
| --- | --- | --- |
| Schwinn Computer | Planet Bike 9.0 | Sigma Wired |
| Cateye Velo 8 | Cateye Velo 5 | Topeak Comp 130 |
| | | |
If one of these didn't interest you, take a look at this page for a larger listing of bicycle computers
.

If you really feel that you don't want to mess with a wire coming from your front wheel up to your handlebars, a wireless bicycle computer might be what you want. Typically these are easier to set up because you don't have to wind the excess wire around your front brake cable.

The ease of setup can have some drawbacks. I have found that with the wireless computers there is a bit higher frustration level because sometimes they don't recognize the transmitter down at the wheel. The wireless systems can also be susceptible to interference from power lines and other electromagnetic signals. Any wired system is by nature going to be less vulnerable to outside interference.
That said, when you break the wire on a wired system the signal isn't going to get through either. I have had a break in the wiring that wasn't visible from the outside. It took a lot of time and effort to find the break and repair it.


Wireless Bicycle Computers

| | | |
| --- | --- | --- |
| Sigma 1706 | Cateye Double | VDO Digital Wireless |
| Cateye Strada | Sigma 1606 | Vetta RT288-L |
| | Panoram Wireless | |

If one of these was not what you were looking for, take a look at this page for a larger listing of bicycle computers
.

Integrated Cyclecomputer
This type of bicycle computer will only apply if you have Campagnolo or Shimano components and want to use the integrated buttons on the brake hoods to control your computer. My wife has the Flight Deck on her Trek 5000 road bike. It is nice for her because she doesn't have to take her hands off the bars to see different information on the computer.

Another nice feature of the integrated computer is they will display what gear you are currently in. Kind of a nice thing when you are climbing a hill and wonder if you have any gears left. These come in wired or wireless so you would buy the head alone and then a wired or wireless kit. If you aren't up to unwrapping your bars and peeling back your brake hoods, this might be a thing for your dealer to install.


| | |
| --- | --- |
| Flight Deck | Wireless Kit for Shimano |
| | |

These are great if you are interested in integrating your bike with your computer. They work well and look good.

Advanced Cycle Computer - GPS based
I currently ride with two computers on my bike. The Garmin Edge 305 and the iBike Pro power meter. I have been using the Edge 305 since late 2007
and can say that it really has changed the way that I look at a bicycle computer.
I use this computer on all of my bikes; tandem, road and mountain. All you need is a mount for each bike.

The zero setup is the best feature. Just put it on the bike and go.

I can log all of the data from every ride, see where I have been including the weather. Why the weather. Because it is great for retelling a story about an epic ride. "Dude, it was raining so hard that day I couldn't breathe." Well, now you can see that 2" per hour data and

know

just how bad the rain really was.

Here is what the 305 will do for you: (from Garmin's pages on the 305, their guys are paid to write this in the best way):



GPS-enabled cycle computer-



barometric altitude and vertical profile
wireless heart rate monitor
self-calibrating wireless speed/cadence sensor
tracks speed
distance
calories burned
average and max speeds

Garmin makes several models of GPS based bicycle computers now. They have the Edge 205
, which is basically the same thing as the 305 but no heart rate monitor. You can move up to a more sophisticated computer with actual maps and street names in the Edge 605
and Edge 705.
The Edge 705 is a very sophisticated bicycle computer. With a wireless heart rate monitor, full color, full detail maps, ANT+ connectivity to power meters and the full slew of cycle computer functions this will do everything you need on a biking trip. The batteries recharge through a mini-USB port on the back and give you 10+ hours of continuous use.
Here is how the Edge 705 is described on Garmin's site:



Trainer. Navigator. Edge 705 pushes you to do your best, then shows you the way back. This GPS-enabled cycle computer knows no limits. Get heart rate, cadence, turn-by-turn directions, power data (from ANT+™-enabled third-party power meters) — the works. Even share your data with other Edge 705 buddies after your ride. All wireless with a color display, this is no ordinary cycle computer.



As I described on my travel page, I used one for a while and will be switching to it once Quarq comes out with a compact crank version of their power meter, the Cinqo. I like the iBike but I want to get back to using just one thing on my bars.

One really nice thing I am looking forward to using all the time on the 705 is the mapping. With the 305 I can't see where I have been until I load the data into the computer.



Search this site
---
---
What's your passion?
Why not share that passion with other people? The company we use to get our message out about tandem bicycles has wonderful tools and support.
Unlike many web hosting companies, SBI goes beyond just "putting up a site" and shows you how to run it like a real business.
With comprehensive research tools, unbelievable instruction on how to make the most of your ideas and better than you can believe support they are the right answer to help you share your passion, no matter what it is, with the world.
Click here to get more information about SBI and how they can help you.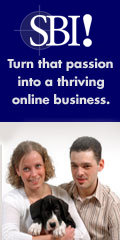 ---
---