Find a pair of bicycle earrings that
you

"Beautiful turquoise bicycle earrings"

We have a pretty dedicated group of cyclist where I live. We ride together, socialize together, vacation together and just pretty much spend all of our time with each other.

It seems like people are always finding the coolest cycling related things. My wife mentioned to me the other day that I should look for cycling related earrings. I have found necklaces, bracelets, kitchen goodies, wine accessories and more but didn't have much luck with bicycle earrings until I stumbled upon this site.

I have put a collection of some of their bicycle earrings in the table below for you to look at and see if there is something there that might interest you.

The collections of earrings that I am showing you on this page are designed by some very talented people. One that you will see pop up again and again is Dana Paige. Her work in sterling silver really shines! I know, that was a really bad pun but her designs really are something.

I have done some general grouping of the earrings, like I did with the necklaces, of items into the following: (in progress)
Road Biker
Mountain Biker
Tandem Bicycle
Other

Just click on a link to be taken directly to any one of those sections and browse the examples of the tiny bicycle sculptures that abound.

Road Biker
Everyone knows a road biker somewhere. Can you think of a better way to show off your fondness than a personal gift like a pair of earrings. Well, I guess a brand new Trek Madone 6.9 Red would probably sit pretty high with them, but you wouldn't be here looking at this page if you had gotten them one of those would you?



Road Earrings

Blue Cyclist & Sun

Cyclist in Wheel

Mini Road
Cyclist

Wire Frame

Post Earrings, Sterling

Black Cyclist & Sun

White Pearl


French Wire

Road Bike
Tandem Biker
That tandem team you are a part of just wouldn't work with your significant other. Be they the captain or the stoker how would you get the bike around without that other person. Well, I guess you could ride it around the parking lot or your town with just one rider, but that would be pretty silly. We are talking Monty Python silly here.

Show your better half that you are thinking of them, off the bike, not when they are working their butt off to get you up a hill.
Present a beautiful pair of bicycle earrings and watch how hard they pedal up the hills next time!


Search this site
---
---
What's your passion?
Why not share that passion with other people? The company we use to get our message out about tandem bicycles has wonderful tools and support.
Unlike many web hosting companies, SBI goes beyond just "putting up a site" and shows you how to run it like a real business.
With comprehensive research tools, unbelievable instruction on how to make the most of your ideas and better than you can believe support they are the right answer to help you share your passion, no matter what it is, with the world.
Click here to get more information about SBI and how they can help you.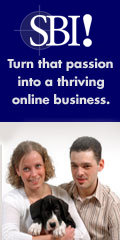 ---
---