Want to find the
best

bicycle gift for that special someone?

"Your bicycle gift ideas are great", Carrie
Bicycle gift search not going so well?
Every now and then the desire to get your favorite rider, captain or stoker something special might creep up. What better way to express yourself than a custom bicycle gift? We have a selection of T-Shirts, Baby Clothes, Sweatshirts, Mugs and more. See if there is anything in here that interests you.
Here are some ideas I have to share with you:
Carvings and Sculpture (coming soon!)
Custom Clothing
Please click the link below and

and see the collection of custom clothing with the tandem speed logo!

Do you have a favorite photo of you biking on your tandem or a photo that you have taken somewhere and you want it made into an embroidered shirt or hat? I can get that done for you. Several of my friends own large custom shops that do just these sort of things. Just send me a message and I'll see what we can get done.
Bicycle Wine Accessories

How do you open your favorite Cycles Gladiator? Why with the Campagnolo Big Corkscrew of course! This thing is a serious corkscrew for the serious cyclist and wine drinker. Built by one of the best known bicycle component companies, Campagnolo, this corkscrew will surely outlive you and me combined. This is the ultimate bicycle gift for the rabid cyclist in your crowd.


Do you need a whimsical way to show off your now open bottle of

Cycles Gladiator?

How about a customized wine caddy that looks like a person holding a bicycle? Keep that open bottle fresh in style.

Check this out


Other wine accessories you might find pretty cool are these neat wine charms. You put them on individual wine glasses so no one will forget which glass is theirs when they set it down. Neat idea huh!



How about when you just can't quite finish that last bottle of Cycles Gladiator? What to do, what to do? Well, rather than putting just any old cork back into the bottle, how about topping it of with a hand painted pewter cyclist?

Cycling Movies
Check out this collection of cycling movies. Some are classics, some are more eclectic. All are really good and make a great gift.

If you don't see one you remember just type it in the search box and it will come up.
---
Bicycle Business Card Holder
Here is a pretty cool collection of business card holders for your desk. These would work well for a shop's front counter or the owner's desk.
Search this site
---
---
What's your passion?
Why not share that passion with other people? The company we use to get our message out about tandem bicycles has wonderful tools and support.
Unlike many web hosting companies, SBI goes beyond just "putting up a site" and shows you how to run it like a real business.
With comprehensive research tools, unbelievable instruction on how to make the most of your ideas and better than you can believe support they are the right answer to help you share your passion, no matter what it is, with the world.
Click here to get more information about SBI and how they can help you.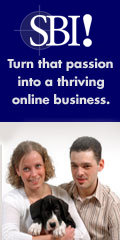 ---
---