Which bicycle luggage rack is
right

?

A bicycle luggage rack is really an essential beginning point for tandem accessories. You will eventually find the need to carry something, most likely a rack trunk to carry extra gear and food or perhaps a lunch.
Choosing that a rack for the back of your tandem, or any bicycle, isn't that hard. You basically have two choices on type and I have listed them below.

Frame Mount Rack
Frame mount racks
offer the most cargo capacity and versatility for putting stuff on the back of your tandem (or single bike). You'll find that no matter how short the ride on your tandem, you'll always need to carry something. If you don't then your stoker will.
Most people put a rack trunk on the luggage rack. You can follow the link to a page I have just about rack trunks. There are lots and lots of choices when it comes to trunks. There isn't any right one. I give some suggestions on that page but the choice really depends on how much space you need.
Don't plan on brining home the new television on one of these. If you are planning to haul some really serious amounts of stuff, you are going to need to either get a trailer or panniers.
Seat Post Mount
This rear seat post rack
style mounts just as the name implies, to the seat post of the stoker. It goes on and off really quickly and can hold a fair amount of weight.
I used the rack pictured for two years on my mountain bike when I would do endurance races and needed to carry gear. It worked well, but I would prefer something a little more permanent if I was going to use it every day.
The pictured model is by Topeak and I liked it because it had fold out panniers that would increase the capacity by quite a bit. Unfortunately as you increase the capacity, you increase the weight you have to carry :(

Search this site
---
---
What's your passion?
Why not share that passion with other people? The company we use to get our message out about tandem bicycles has wonderful tools and support.
Unlike many web hosting companies, SBI goes beyond just "putting up a site" and shows you how to run it like a real business.
With comprehensive research tools, unbelievable instruction on how to make the most of your ideas and better than you can believe support they are the right answer to help you share your passion, no matter what it is, with the world.
Click here to get more information about SBI and how they can help you.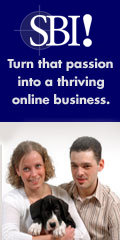 ---
---