Why not show off your
love

of cycling art with one or two bicycle prints?

"I love bicycle prints and posters", Sullivan S.

Beautiful bicycle prints are great way to show off your love of cycling. Whether you are a lover of single bikes, tandem bicycles or quadricycles there is the perfect print available for you.

The classic bicycle racing posters of the 20's, 30's and 40's will add an art deco flair to your home while the more whimsical posters of chefs on bikes or old advertisements for products from the turn of the century can lighten the mood in your home.


The "Next" button at the bottom of the window can take you to more and more different types of prints and posters with a bicycle theme. You are sure to find what you are looking for.

Here are some that I have hanging in my home.
We also had a custom print done by my wife's brother for our wedding. He designed it.
If you don't find a bicycle print that you are looking for, try searching in the box below, it may just take you right where you need to go!
Search this site
---
---
What's your passion?
Why not share that passion with other people? The company we use to get our message out about tandem bicycles has wonderful tools and support.
Unlike many web hosting companies, SBI goes beyond just "putting up a site" and shows you how to run it like a real business.
With comprehensive research tools, unbelievable instruction on how to make the most of your ideas and better than you can believe support they are the right answer to help you share your passion, no matter what it is, with the world.
Click here to get more information about SBI and how they can help you.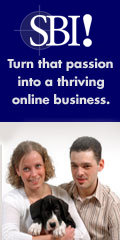 ---
---