A bicycle rack is what you need to get your tandem there and back.
"Your bicycle rack should not have a bike on it before driving in your garage!"
The right bicycle rack can make getting your single bike, tandem or recumbent to and from rides that don't originate from your house very simple.
Let's face it, taking the wheels off, putting the bike in your back seat (if you have a car) or loading it in the back of your SUV is a simple option. You can do this, many people do. But admit it, this really is a pain in the butt. I did this for the first few times I rode my single bike then graduated to a hitch rack. At the time, this was my best option because I didn't have a rack for the car and didn't have a tandem so I didn't think about it too much. As my stable of bikes grew and my wife and I got a tandem, we started to think a little bit more about how we were going to get our tandem back and forth to rides that weren't starting from close to home. It also dawned on us that we might want to take our tandem up to my family's summer house in Northern Wisconsin.
As you can see from the page at the link above, there are bicycle rack options for putting a tandem on the back of your car or truck. Personally, I prefer the roof rack.
To me, a roof rack is preferred over a hitch style bicycle rack because it seems a "cleaner" way to carry your bike(s). In order for you to get a handle on what kind of rack you want to use to carry your tandem or your single bike, let's explore a few different options that are out there and see which one is right for you.
In these two pages, let's look at tandem specific racks:

roof racks

and

hitch racks.
Search this site
---
---
What's your passion?
Why not share that passion with other people? The company we use to get our message out about tandem bicycles has wonderful tools and support.
Unlike many web hosting companies, SBI goes beyond just "putting up a site" and shows you how to run it like a real business.
With comprehensive research tools, unbelievable instruction on how to make the most of your ideas and better than you can believe support they are the right answer to help you share your passion, no matter what it is, with the world.
Click here to get more information about SBI and how they can help you.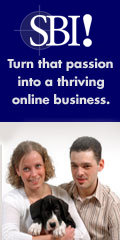 ---
---