Prevent damage, learn proper bicycle storage!
"Using proper bicycle storage, we have prevented a lot of paint dings on our cars and bikes."
Bicycle Storage is more than just parking it
Many people give little thought to how and where they are going to store their new tandem until it actually comes time to put it away. Then the light goes off and you have a large piece of equipment that needs to go somewhere The only real exception to this would be if you bought a tandem that has couplers and you were to take it apart after every ride and store it in the case that is used for shipping.
Not very likely! Since it takes about 20 minutes to take down a tandem and just about as much time to put one back together, you won't be doing this after every ride unless you have absolutely no storage space.
Fortunately, even those with very limited space, there are some really good ways to store your bike ranging from very easy to just a little bit difficult. Each one takes up progressively less floor space in your home. Also as you being to get things off the floor of your garage, storage unit or other area you keep your bike, the chance of that bike falling and damaging itself or something else valuable lessens. Imagine what would happen if you kept your bike in the house and your bike fell over and the end of the handlebars impacted your fish tank! Suddenly bicycle storage would become very important!
Ok, Let's look at each type of bicycle storage and I'll show you how I have used each one of them in my own garage.
Bicycle Covers
This is as simple as it sounds.
Nothing more than a cover you place over your bike, it will help keep the dust off and protect from minor scratch caused by accidental contact. You can see here
that there are many types and sizes available. I believe that I have found an option that makes a good tandem cover
for not a lot of money and is really easy to get on and off.
Bicycle Hangers
These range from a simple "j" hook you can get at your local hardware store that screws in the ceiling, to a wall mounted single bicycle hanger that holds it by the tire, to a beautiful piece of sculpture to hold your bike and show it off as a piece of furniture.
Let's take a tour of my garage and see how I protect my bikes.
As seen on the far left of the photo of my garage, this rack is what I use
to hang a bike up right after a ride. You can see one complete bike on it right now as well as my TT frame. Normally it holds two bikes and is the fastest way to get the bike off the floor. This rack can be folded flat if you are short on space or are afraid you will bonk your head on the rack while walking by.
Moving one setup to the right, you can see the bike hoist
I use this to store my tandem off the floor. It really protects the custom paint job from the scratches that my two kids would inflict upon it.
Next moving forward from the tandem hanger you can see simple J hooks
screwed into a board on the ceiling. The board allows me to distribute the weight over two trusses and not pull out of the plaster (I don't have drywall but rather Kal board and plaster).
The final type of thing that I use for bicycle storage is a hanger that holds the bike against the wall by the wheel. This hanger holds the bike securely
yet allows for easy hanging and prevents the bike from swinging from side to side like a J hook will.
All four types of hanging devices
in my garage that I showed pictures of can be used in concert with one another for a complete bicycle storage solution.
A nice plus to hanging the bikes is that since my kids drop their bike when and where ever the mood strikes them, nothing but my motorcycle gets scratched. I know this might be a little misguided in my thinking, but I like my bikes more than my motorcycle. They get used more and frankly are more fun to me. The floor sure takes a beating from the handlebars but what can you do?

Bicycle Hoist
If I had to choose a favorite type of bicycle storage, this would be it. It is fun to use and is just plain cool. I just wish there was a solution like this for my motorcycle. This is the best way
that I have found to store our tandem. It super easy to use and one person and easily pull a heavy tandem up with the mechanical advantage the pulleys offer.
What about your kid's bikes you say?
It's a good thing you asked. Bicycle storage for kids is often overlooked. Before we had kids, we didn't really worry too much about putting the bikes up. A simple bike rack was all we needed. I stumbled upon floor stand for your home while surfing the internet one day. This seemed like a pretty good idea so I put one in. Now the stand we have has only two places and they are kind of tight. This stand
is a vast improvement over what I have because your bikes aren't overlapping and the sides are taller. Now we just use ours to hold up the kids bikes. If you have kids, you know they will stay in the rack for about three seconds, then they will be on the floor again. Oh well, someday I can hope they will pick up on the idea of putting things away. It only took me 30 years to learn it!
Search this site
---
---
What's your passion?
Why not share that passion with other people? The company we use to get our message out about tandem bicycles has wonderful tools and support.
Unlike many web hosting companies, SBI goes beyond just "putting up a site" and shows you how to run it like a real business.
With comprehensive research tools, unbelievable instruction on how to make the most of your ideas and better than you can believe support they are the right answer to help you share your passion, no matter what it is, with the world.
Click here to get more information about SBI and how they can help you.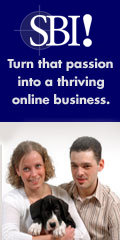 ---
---