Is taking your tandem with you on your agenda? Use a bicycle travel case.
"Thanks for the bicycle travel case information. You really saved me some potential heartache"

Traveling with your tandem shouldn't be a problem. A bicycle travel case will help make things easier. Everything here can pertain to single bikes as well as tandems. A coupled single bike is a bit more of a rarity but you can get one made if you really travel a lot
Packing your tandem
There are two camps of thought on packing your tandem. The first is using some type of bike box or case. The second is merely putting a luggage tag on your bike and letting it travel on a plane as a checked item. I have had friends take their tandem across the U.S. this way and have not suffered any damage doing this. In fact, they shipped two tandems on that particular trip and the bike they put in a case ended up getting squished by a luggage tram at the airport somehow.
Case Types
Depending on the type of tandem you have, rigid or coupled, your case needs will vary. Most coupled tandem manufacturers offer cases that are specific to their bikes. Santana offers the FTS (Foam Tray System) . With die cut recesses, it is very easy to pack your Santana tandem.
Photo and text courtesy of Santana Tandems.

In my opinion, it is a good idea to take advantage of the experience they have packing and protecting their own models of bikes. Buy the case they offer. It may cost a little more up front, but a damaged bike caused by a case that just doesn't fit will cost you more in the end. See below in the airline tips sections for added savings that a custom made case will offer.
Hard cases
are just that. Two hard, injection molded plastic cases, that fit together with latches, straps or a combination of both. In the case of tandems, this usually means a custom made case by the tandem manufacturer.
One exception to this that I know of is the tandem case by Crate Works .I own this bicycle
travel case in the single bike form
. It is the Pro-XLC. I can tell you from experience and so far, four trips to Europe with a Crate Works bicycle travel case, that these cases are tough! I have both this and a Serfas case and the Crate Works is the case that my bike goes in every time.
The Crate Works case has so much more room, gives "breathing room" (for you not your bike) between the edges of the case and the baggage guys and has a modular replacement system that makes it such a good choice.
You never feel like your bike is squished in the case like you do with the other hard cases out there. I haven't been charged an "oversize" charge on my single bike either. It looks really big but with the wheel kit travels very easily.
One added plus I almost forgot that makes this nicer than my other bicycle travel case is that this one will break down and store flat, like a flattened cardboard box so it doesn't take up tons of room when not in use.
Soft Cases
I have seen only one soft tandem case or bicycle frame bag as some people call them, out there
on the market. Based on the travel experiences of my friends that have the single bike version of this case, the Bike Pro Tandem Case
offers a great way to get your tandem around if you want the soft version.
One plus we found when traveling to Spain in 2008 and getting stranded in New York at JFK overnight is that the flap on the Bike Pro case makes a nice sleeping mat in the terminal.

The bicycle travel case is much more than a bicycle frame bag. There is a significant amount of protection afforded by a case of this type. Fork mounts keep your bike situated in the case and molded foam protects other parts. Caster wheels make travel a cinch.
Flying with your bike
If you plan to travel quite a lot with your tandem, getting a coupled tandem might even save you money in the long run over a non-coupled tandem.
These significant savings, by purchasing a coupled tandem, come from the reduced baggage fees you will most likely incur when transporting your tandem. $100 each way adds up rather quickly. The other plus is that a coupled tandem will fit on any commercial plane just like a regular suitcase. Here are some guidelines based on bicycle travel case sizes:
Crate works bicycle travel case: Fits on 4 wide regional jet, can fit in a mini van, but is too big to UPS. Most likely an extra luggage charge.
Bike Pro tandem base: Fits on a 4 wide seating regional jet, can fit in a mini van, but is too big to UPS. Most likely an extra luggage charge.
Standard airline bicycle shipping box: Fits on a 5 wide seating regional jet (not most), can fit in a mini van, but too big for UPS. Will get an extra luggage charge.
Santana safe case: Fits on any jet, fits in any car, can ship UPS. Will not get an extra luggage charge 99% of the time.
Airline Tips
Don't call the airline ahead of time
Check the size of your regional jet and book accordingly
Don't over pack, too much weight will ding your wallet
Be really early for your flight, that large bag won't help matters
Be sickly sweet to the ticket counter agent. Can't hurt
Did I mention not to call the airline. Why make them think about more charges?
Many thanks to Bill McCready at Santana for content to this page. You can see more on the Santana travel page.
Search this site
---
---
What's your passion?
Why not share that passion with other people? The company we use to get our message out about tandem bicycles has wonderful tools and support.
Unlike many web hosting companies, SBI goes beyond just "putting up a site" and shows you how to run it like a real business.
With comprehensive research tools, unbelievable instruction on how to make the most of your ideas and better than you can believe support they are the right answer to help you share your passion, no matter what it is, with the world.
Click here to get more information about SBI and how they can help you.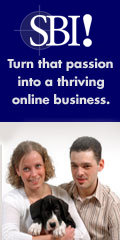 ---
---