Child Stoker Kit
With a quality child stoker kit you can take your younger child along for the ride. You can see in the header logo of this page my daughter riding along with me. She is 6 in this picture and has been riding on the back of the tandem for over a year.
She's gone with me on 60+ mile rides this way and never had a problem. The child stoker kit brings the pedals right up to her height and with the smaller cranks she is able to spin comfortably.
Our Davinci tandem does have a unique drivetrain where it allows her to coast should she wish and this doesn't affect my pedaling so it is ideal for a child stoker kit.
Here are some photos of how these kits mount on your bike. As more people submit photos of their kits, I'll post them.
If you are looking for a kit, Santana and Davinci make some really good ones.
Search this site
---
---
What's your passion?
Why not share that passion with other people? The company we use to get our message out about tandem bicycles has wonderful tools and support.
Unlike many web hosting companies, SBI goes beyond just "putting up a site" and shows you how to run it like a real business.
With comprehensive research tools, unbelievable instruction on how to make the most of your ideas and better than you can believe support they are the right answer to help you share your passion, no matter what it is, with the world.
Click here to get more information about SBI and how they can help you.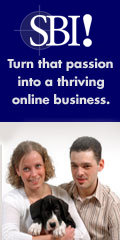 ---
---