Put the headline here.
We hope you enjoy the tandem photos
Custom Erickson
by Peter Leiss
(Toronto Ontario Canada)
Custom Erickson
We went on an Erickson Tour in Tuscany for our tenth anniversary on our Co-Motion Cappuccino. It was a marvelous tour with 3 other tandems besides ours. While there Glenn Erickson observed that we did not have our position dialed in totally. It was ultimately decided that we could get a custom frame made by Glenn of course.


So we went ahead and had our Erickson built. We received our new tandem early in 2008 and could not be happier with it. Peggy my fabulous stoker and wife does not miss the beam at all. We have put over 1500 miles on it this year.
Disk Brakes all around with SS couplers and Glenn's custom Campy shifter to Shimano derailleur converter. Everything works really well.
Join in and write your own page! It's easy to do. How? Simply click here to return to Show off your bike!.
Search this site
---
What's your passion?
Why not share that passion with other people? The company we use to get our message out about tandem bicycles has wonderful tools and support.
Unlike many web hosting companies, SBI goes beyond just "putting up a site" and shows you how to run it like a real business.
With comprehensive research tools, unbelievable instruction on how to make the most of your ideas and better than you can believe support they are the right answer to help you share your passion, no matter what it is, with the world.
Click here to get more information about SBI and how they can help you.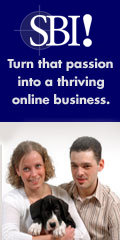 ---
---