Want to relieve the boredom on your trainer? Try a cycling DVD.
"I use a cycling DVD to extend my time on a trainer. "
Do you dread riding in the winter?
I used to hate riding my bike in the winter on the trainer. I started racing about 10 years ago and
started a training program in the fall so I could have a fresh start to the new season. I didn't give much thought to what was going to happen when the snow started flying. I have some friends that ride their snow bikes but that really wasn't my thing. I really like mountain biking but I didn't want to get into cyclecross. The running just doesn't do it for me. I run on a Turkey Trot every year, but that is just a reason to eat more at dinner on Thanksgiving. What was I going to do?
I started talking to some of my friends and asked them what they do in the winter time. They told me they watch cycling dvd sets. They start with the first dvd and then work their way through the set for the season. What a great idea!
A couple things you'll want to think about before you start to ride inside are what are you going to watch? What trainer will you use? Are you going to just ride or use a training program?
What and where to watch?
I have a pretty nice option for riding inside. When I remodeled my house in 2004 I added a gym
and a theater so I am given a couple options. There really is nothing like riding in front of an 8 foot screen! The only real problem is when riding your rollers you can fall over when the camera takes a tilt because your whole field of view is taken up by the screen. I have some eMotion rollers that have side wheels to prevent you from going off the front. I can say I have used the safety catch rollers many times.
When I feel like riding a little more sedately or the kids want to watch a movie, I'll move the rollers into the gym and ride.
You don't need a super fancy setup or anything to watch a cycling dvd. I have a 26" flat panel mounted to the wall that doubles as a computer monitor for my Computrainer.
I have found from riding in front of a TV over the years that you want it to be slightly lower than eye level when you are on the trainer. If not, you will develop neck strain and sore shoulders from keeping your head up. This is alot like you'll get in endurance races where you have to hold your head up. You might think this is strange but inside watching a cycling dvd, you aren't swiveling your head around like you would be on a bike outside.
That is really the question isn't it. Do you like stage races, do you like the one day classics? Where do you get the videos? I found that Amazon has a great selection of cycling dvds that will keep you busy for the whole season. Personally, I watch the one day classics. You can ride a whole training session and watch the whole race. With a stage race you sometimes get caught up in the race and want to watch a little more, then a little more, then a little more and pretty soon you have watched the whole dvd. I do watch them mind you, but I just have to be careful I don't get too caught up in it.
Search this site
---
---
What's your passion?
Why not share that passion with other people? The company we use to get our message out about tandem bicycles has wonderful tools and support.
Unlike many web hosting companies, SBI goes beyond just "putting up a site" and shows you how to run it like a real business.
With comprehensive research tools, unbelievable instruction on how to make the most of your ideas and better than you can believe support they are the right answer to help you share your passion, no matter what it is, with the world.
Click here to get more information about SBI and how they can help you.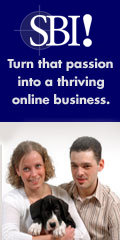 ---
---