Is a folding tandem bicycle right for you?
A folding tandem bicycle could be a good option for you if you travel quite a bit and want to save on bicycle transportation costs. The average cost to ship a bicycle in a bicycle travel case is $150 one way. Unless you are going overseas for an extended vacation, most likely you won't want to pay that kind of money. $600 extra per couple could be a deal killer for many families. This doesn't take into account the cost of the case itself which can run from $99 to $500+.
Here's a picture of the Bike Friday Two'sDay folding tandem in both the open position and the closed position.
Pictures used with permission of Bike Friday
If you have a custom fitted bike and really like your bike, then cost really isn't the issue. However, if you like to travel and want to take your tandem with you to ride around a bit, a folding tandem bicycle might be a good choice for you. The hassle at the airport will be no more than a suitcase.
My wife and I have traveled quite a bit with our bikes and I would say a conservative estimate on what we have spent on bike fees from the airlines would pay for a nice new tandem.
Just as there are many different types of people, the needs vary just as greatly for a bike that you can pack up and take with you. You may not be looking for a tandem. Perhaps you would like just a single bike that you can pack up and take with you. Look at the folding bicycle and portable bicycle pages.
Search this site
---
---
What's your passion?
Why not share that passion with other people? The company we use to get our message out about tandem bicycles has wonderful tools and support.
Unlike many web hosting companies, SBI goes beyond just "putting up a site" and shows you how to run it like a real business.
With comprehensive research tools, unbelievable instruction on how to make the most of your ideas and better than you can believe support they are the right answer to help you share your passion, no matter what it is, with the world.
Click here to get more information about SBI and how they can help you.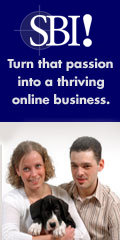 ---
---