Don't feel like using a roof rack for your tandem? Try a hitch rack that fits on the back of your vehicle.
A hitch rack is used to carry your tandem or single bike on the back of your vehicle. There are the horizontal type and the vertical type. I'll explain both below.
Horizontal Rack
This rack is made by Cycle Simplex and allows you to carry the bike on the back of your vehicle with both of the wheels attached.
I would say this is a nice solution and works well if you have a wider than compact vehicle. The extra width of the tandem sitting on this type of hitch rack could make some people nervous about catching an errant mirror or fitting through some tight traffic and not catching their tandem on something.
You should check your state laws and find out if a horizontal rack is legal. In Michigan, it is not legal for a bicycle on a rear rack to stick out wider than the vehicle's mirrors. In most cases this is not an issue and this type of rack will work well. A big benefit is that it allows a very fast loading and unloading of the tandem.
Cycle Simplex offers racks for trikes and recumbents as well as tandems.
Vertical Rack
The vertical rack, seen here,
offers a different way to carry your tandem. Your front wheel comes off, much like a roof rack, but your tandem sits vertically on the back of your vehicle. This particular rack (picture courtesy of element owners club.com) is made by Draft Master. This is their Specialty Hitch Rack. It offers tandem riders the comfort not having the bike stick out past the edges of the vehicle.

Just as a horizontal rack, there is the possibility that someone could rear end your car and smash your bike. Your clearance can also be reduced when backing out of a driveway and my experience with a hitch rack is that on normal passenger cars and vans (I have had both), the extra weight can cause the rack to scrape on the ground unless it offers an upturned neck on the rack. Some manufacturers do this and some don't.

Personally, I like the vertical rack because I would like to have a thinner profile presented to the wind rather than the side profile of a horizontal type hitch rack.
Trunk Mount
I have not come across a trunk mounted rack that can handle the width and weight of a tandem and still remain stable while the wheels are still on. Just look at the trunk mounted racks you see from day to day and notice how much they sway and rock. If you want to use one of these, be sure to take the wheels off to reduce the weight the rack needs to carry and make the bike narrower on the back of your car.
Now think about putting something on there with the weight and leverage that a tandem could exert on that rack and ask yourself if you really want to take the chance with your $2000 plus tandem. A couple standard width 16 pound road bikes is one thing, a 40 or more pound tandem hanging way out there with the leverage associated with that length is another thing.
Search this site
---
---
What's your passion?
Why not share that passion with other people? The company we use to get our message out about tandem bicycles has wonderful tools and support.
Unlike many web hosting companies, SBI goes beyond just "putting up a site" and shows you how to run it like a real business.
With comprehensive research tools, unbelievable instruction on how to make the most of your ideas and better than you can believe support they are the right answer to help you share your passion, no matter what it is, with the world.
Click here to get more information about SBI and how they can help you.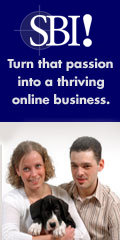 ---
---