Try a mountain bike tandem to take the fun off road.
"We love our mountain bike tandem". Lance and Traci

Every year I race in the Chequamegon Fat Tire Festival. Thought I don't race a mountain bike tandem, many of my friends do and do well.
Husband and wife teams abound in the mixed tandem class. You might just find a new favorite past time with your spouse racing tandems off road.

Here's a photo of one of our teams at the race.
They had a little spill which is evidenced by the blood on both of them. Gravel and crashing generally don't go too well together. Though it should be said that these two seem to crash more than your average bear. Might be going a little too hot into some of those corners guys!



The mountain bike tandems are really a great source of fun. You won't really be twisting through the tight single track with one just due to sheer size but that is about the only limitation.



We see single speed tandems, rigid models and full suspension models. There isn't a better machine to get behind on the road in a mountain bike race than a tandem. These things fly on the flats and downhill!


A real downside this type of tandem is the amount of beating that these machines take. Combining the stress of two very strong riders with the pounding a long off road course subjects these bikes to is amazing.
Submitted Tandem Mountain Bikes

| Viper Tandem Mountian Bike (England) | Viper Tandem MTB (Russia) |
| --- | --- |
| | |
The bottom tube on a tandem flexes and this loosens and tightens the timing chain. On a mountain bike tandem you add this flexing to the very rough terrain and you can see how these bikes need to be built up to handle the extremes. The bike above is a Davinci mountain bike tandem being put through the paces.


Mountain Tandem Wheels
You every day tandem wheel might not be up to the task of the stresses and strains that an off road tandem can produce. You really need to look at having a strong set of wheels for your rig.
The key to having a strong wheelset begins at the hub. Chris King has a great heavy duty disc ready hub for use on your mountain tandem.
Weighing in at only 414gr for the rear and 150gr for the front, the Chris King Disc hubs are perhaps one of the best off-road tandem hubs available. The Chris King tandem hub differs from the standard hub, by upgrading to a stainless steel cassette body and a heavy-duty axle. With standard 19.5mm axle, proven bearings, these hubs are fully capable of handling tandem use.
After choosing your hub, you have to pick out the best rim for your bike. A rim not designed for heavy use will not stand up to off road punishment. I have the V-22 rims on my tandem from Davinci. They spec this rim on both their on road and off road tandems. You can see more about this rim on my wheels page.
Here's a picture of Lance and Traci's tandem driveline. You can see they did a single side drive to reduce the stress on the bottom tube of the tandem. This is the bike you can see them riding in the first picture on the page.
If you are interested in buying a mountain bike tandem or speaking with a real expert in the field you can visit Mountain Bike Tandems. These guys are a great source for parts and bikes and all the goodies to keep your mountain bike tandem running.
Search this site
---
---
What's your passion?
Why not share that passion with other people? The company we use to get our message out about tandem bicycles has wonderful tools and support.
Unlike many web hosting companies, SBI goes beyond just "putting up a site" and shows you how to run it like a real business.
With comprehensive research tools, unbelievable instruction on how to make the most of your ideas and better than you can believe support they are the right answer to help you share your passion, no matter what it is, with the world.
Click here to get more information about SBI and how they can help you.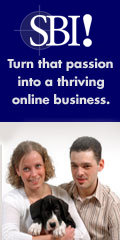 ---
---