Put the headline here.
We hope you enjoy the tandem photos
NAY TRIDEM
by William Nay
(Elkins, West Virginia)
I built my Tridem using a jig I designed to hold the tubing, bottom brackets,dropouts etc. in position during the brazing operation. The beautiful paint job was done by D&D Cycles.


The unusual features I incorporated in the design include: the use of oval tubing for the top tube and the sloping intermediate tubes which add considerable rigidity to the long frame; Phil WOOD disc brakes to control fast descents without heating the rims thus avoiding blow-outs; and, best of all is what I call my "MID-KID" adjustable bottom bracket which allows a young rider to "freewheel" when he/she needs to rest.
We rode in many metric centuries in the Northern California area as well as weekend "coffee" rides in the San Francisco Bay Area before moving to our new home in West Virginia.
Join in and write your own page! It's easy to do. How? Simply click here to return to Show off your bike!.
Search this site
---
What's your passion?
Why not share that passion with other people? The company we use to get our message out about tandem bicycles has wonderful tools and support.
Unlike many web hosting companies, SBI goes beyond just "putting up a site" and shows you how to run it like a real business.
With comprehensive research tools, unbelievable instruction on how to make the most of your ideas and better than you can believe support they are the right answer to help you share your passion, no matter what it is, with the world.
Click here to get more information about SBI and how they can help you.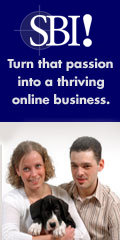 ---
---