Put the headline here.
We hope you enjoy the tandem photos
Purple Perdition
by Darell
(Davis, CA)
The purple taxi on the way to swim lessons.
My daughter was outgrowing her Burley trailer, and I needed a way to ride with her over relatively long distances, and through relatively dangerous traffic. I ALSO wanted a way to ride with my wife - an occasional rider. The tandem is the only way for us to ride together happily. The tandem is used every day for taxi service with my daughter and for some longer rides with my wife.
Search this site
---
What's your passion?
Why not share that passion with other people? The company we use to get our message out about tandem bicycles has wonderful tools and support.
Unlike many web hosting companies, SBI goes beyond just "putting up a site" and shows you how to run it like a real business.
With comprehensive research tools, unbelievable instruction on how to make the most of your ideas and better than you can believe support they are the right answer to help you share your passion, no matter what it is, with the world.
Click here to get more information about SBI and how they can help you.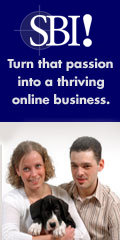 ---
---