Take a look at these related sites that may interest you.
Ebikes and Scooters offers an alternative and environmentally conscious means of transportation. These are the top subject of the world right now other than the economy. People are "going green" from their homes to their modes of transportation. If you don't want to pedal and if you are looking for Alternative Energy Resources, Ebikes-and-Scooters carries all makes and of models of Electric Motor Scooters, Electric bicycles, Electric Mopeds. Scooters are for big people now too, and some cost as little as $99.00. See what Ebikes and Scootersoffers.
Open Directory
Sports directory online
Link Directory
Free Web Directory - Add Your Link


Listing of online directories that can help you increase your site's traffic

Free Web DirectoryFree web directory
Bicycle Directory
Add Your URL FREE, Boost Your Web Site's Traffic & Rankings.
Web Directory - www.bicyclesdirectory.com
Free Web Directory
Here's a nice site about tandem stuff that is more related to current events, The Tandem Link
Do you travel by RV or travel trailer? If so, using a bicycle, single or tandem or other multi-wheel style as I outline in this site would be something you would want to use to get around once your RV is parked. Get some good information about camping with RVs and travel trailers here
Search this site
---
---
What's your passion?
Why not share that passion with other people? The company we use to get our message out about tandem bicycles has wonderful tools and support.
Unlike many web hosting companies, SBI goes beyond just "putting up a site" and shows you how to run it like a real business.
With comprehensive research tools, unbelievable instruction on how to make the most of your ideas and better than you can believe support they are the right answer to help you share your passion, no matter what it is, with the world.
Click here to get more information about SBI and how they can help you.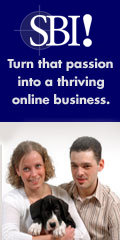 ---
---