Put the headline here.
We hope you enjoy the tandem photos
Silver Santana
by Richard Allen
(San Francisco Bay Area)
Dunlap Time Trial 2007
Mary Ellen and I started riding tandem in 1980 when we purchase our first tandem from Santana. We were both runners and cyclists but she focused more on running and marathons. Since I was focused more on cycling, I rode a little faster so we got the idea of a tandem. We were living in San Diego, CA at the time and rode the tandem on many of the famous routes in San Diego, Northern Mexico and did a tour from Monterey, CA to Santa Monica, CA. via the Coast Highway.


Today, we live in the San Francisco Bay Area in San Mateo, CA. We both race individually on the road and the track and our racing abilities are very similar with each of us having our strengths. We have competed in several tandem time trials. In 2007, we toured Tuscany and in 2008, Mallorca, Spain with Santana Cycles. Touring on the tandem is a great experience and cycling in Italy and Spain a delight. Lately, we are focused on individual races and getting ready for the track season.
Search this site
---
What's your passion?
Why not share that passion with other people? The company we use to get our message out about tandem bicycles has wonderful tools and support.
Unlike many web hosting companies, SBI goes beyond just "putting up a site" and shows you how to run it like a real business.
With comprehensive research tools, unbelievable instruction on how to make the most of your ideas and better than you can believe support they are the right answer to help you share your passion, no matter what it is, with the world.
Click here to get more information about SBI and how they can help you.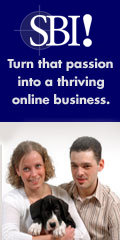 ---
---