Finding the right tandem bicycle accessories can be difficult. Having the right one can make things safer, easier and more convenient.
Tandem bicycle accessories can range from the proper travel case to ways to get your gear around to clothing. We'll take a look at some of the more common and maybe just a few uncommon tandem bicycle accessories in the areas below.
Travel Case
A carefully selected travel case can make all the difference in having a good trip and spending the time you were going to ride your bike just sitting on your thumb. Take a look at our travel case page for more information about making that critical choice.
Storage
Where are you going to keep your tandem once you get it home. Proper storage
is very important for this expensive investment. Take a look to see what your options are.
Carrying your gear
Unless you plan to do just very short rides, you probably will want to carry gear on your tandem. The proper luggage rack will help you carry your gear. There are a large number of choices for carrying bags to mount to your luggage rack. Some of them mount right to the rack while others are an integrated system with the rack. Follow the link to get some answers.
Adding a rider
Don't want to take three people all the time but want them to help with the ride. There are a couple different ways you can do this. A
trailer cycle could be your answer. While not specifically a tandem bicycle accessory, it can give you the extra spot you need to take someone else along with you.
If you want a more traditional type add on bike, a trail a bike might be more your thing.
Maybe you want to take your child on the tandem with you. How about a child stoker kit?
Saddles and posts
Choosing the proper saddle for you and/or your stoker can be one key decision that tips you towards or away from liking cycling. One of the more important tandem bicycle accessories, a comfortable saddle will make things so much more enjoyable. Pair that with a suspension seat post and things really get smooth.
Wheels go round
Tandem bicycle accessories aren't necessarily the same as a standard one person bike would use. Often times they must be much stronger to take the extra stress a tandem produces. Disc brakes are one of the newer things to come along in the tandem world. All of the extra weight not only affects how fast you stop but also places extra wear on your tires.
Those tires need to ride on something and typically that is a set of tandem specific wheels.
Safety
Bicycling in general is know to use other than regular workout clothing. The proper bicycle clothing can make your riding experience much more comfortable. Comfort isn't the only concern with clothing. A properly fitted helmet is extremely important. It not only protects your head but can look good as well. Some of the more advanced models on the market even have netting inside to keep out bugs.
You will surely want to see behind you when you are riding. A bicycle mirror will enable you to do that. Check our section on they different types of bicycle mirrors available and how they vary from one another.
Lighting
If you ever plan to ride your tandem (or any other bike for that matter) at night, you really need to have proper lighting. Check out the lighting section to see what is available out there and how it can help you stay safe. Reflectors just won't cut it.
Search this site
---
---
What's your passion?
Why not share that passion with other people? The company we use to get our message out about tandem bicycles has wonderful tools and support.
Unlike many web hosting companies, SBI goes beyond just "putting up a site" and shows you how to run it like a real business.
With comprehensive research tools, unbelievable instruction on how to make the most of your ideas and better than you can believe support they are the right answer to help you share your passion, no matter what it is, with the world.
Click here to get more information about SBI and how they can help you.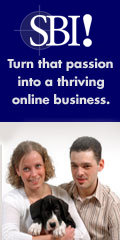 ---
---