Just what does a tandem captain do? What is expected of you by your stoker?
Are you the tandem captain? If so, read on so you can know just what is expected of you.

On a typical tandem setup where the captain is in the front, the captain steers, avoids all the various bumps and ever-present potholes, calls them and coasts over them when he can't, shifts, constantly tells the stoker how fast they are going, brakes, never scares the stoker for any reason, and does whatever the stoker asks him to do.

Oh yes, he also pedals. Can't forget that little piece.

The captain has earned the complete trust of his or her stoker. Without this trust there can be no team. Tandem bicycles don't work so well with out a stoker, nor do they without a captain. With the proper demonstration of good judgment and bike handling skills, the stoker can relax and give-up direct control of the bike to the captain. That doesn't mean the stoker doesn't have responsibilities. He or she now can utterly devote themselves to their duties, part of which is that trust.

The tandem captain does not stop pedaling without first telling and receiving confirmation from the stoker otherwise the stoker could get hurt, the captain could get hurt (by the stoker), or both. This doesn't apply if you have an independent drive tandem.

The tandem captain NEVER pulls out in front of cars or other vehicles, crosses railroad tracks at an angle that could cause the front tire to fall into the groove, blows through stop signs, etc. He must always be thinking ahead and of more than himself. His actions will affect the other rider(s) on the tandem. He always lets the stoker know what's going on, when something unusual happens. If the stoker hears "Oh Shit" and doesn't immediately know what this means there will be a lot of explaining to do very soon.

With the long wheelbase, the tandem will be more stable than a standard road bike, although at first it may feel squirrely, with two people fighting each other. This will go away with time and experience. Realistically, a tandem captain should get on, ride around the parking lot, or up and down the street a few times alone, just to get the feel of how this new beast handles. After a bit of this, the stoker can then get on and show the tandem captain the effects of leaning, stopping pedaling, and moving around. If the two (or more) of you are venturing into the tandem world alone, just be sure to take your time to learn how to communicate effectively. For posterity, you might want to consider having someone take your photo or better yet a video. You can then look back at a later date and say, "Hey, that was our first ride together, remember that?"
Search this site
---
---
What's your passion?
Why not share that passion with other people? The company we use to get our message out about tandem bicycles has wonderful tools and support.
Unlike many web hosting companies, SBI goes beyond just "putting up a site" and shows you how to run it like a real business.
With comprehensive research tools, unbelievable instruction on how to make the most of your ideas and better than you can believe support they are the right answer to help you share your passion, no matter what it is, with the world.
Click here to get more information about SBI and how they can help you.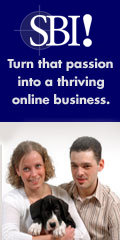 ---
---