A tandem roof rack is specifically made to put your mind at ease.
"The pivoting tandem roof rack you featured on your site has made loading our bike so much easier. "
Standard Roof Rack
Your standard roof mount system attaches to your car with feet that sit on your roof and hooks that come over the edge of the roof and hook in your door jamb. Just about any car can be fitted for these with the right fit kit.
Some models of cars have special areas in the rain channels that are designed to attach the feet of the rack for a more secure fit.
Most SUV type vehicles will have roof rails on which you can mount the cross bars for a bicycle rack system. This has the advantage of giving a more factory designed appearance than the foot and hook system that you will see on most cars.
To these feet you fit cross bars that accept various accessories such as bicycle trays, snow
board carriers, ski carriers, ski boxes and more. A common name seen in the cycling world is the Thule Echelon Roof Bike Carrier
This tray that mounts on the cross bars offers an easy latching system with one hand adjustment and a secure strap system for the rear wheel that fits road and mountain wheels. About the only wheel that I have found won't fit this strap is the Zipp 808's used on time trial bikes and a solid disc wheel on time trial bikes.
This tray would normally be used for a single bike and adapting it for a tandem is possible with a little ingenuity. You could purchase another tray without the front fork clamp and us it by joining them together to make a larger tray. A couple friends of mine have done this. A tandem specific rack is still your best option though.
I have a tandem roof rack. I used to transport my tandem to and from our local tandem group rides on a utility trailer (I'll have to link to some photos of that for those that are interested). Pulling a trailer had its pluses and minuses. The minuses were too much for me.
I decided to invest in a tandem roof rack. Now the big problem that I saw was that putting the bike on the roof wouldn't be a problem for me but it would be a problem for my wife if she wanted to take it with the kids or a girlfriend. I had to come up with a better solution than the trailer. (She can't back up a trailer to save her life
Enter the tandem roof rack!
The Thule Pivoting Tandem Carrier
is a pretty nice design for a tandem roof rack. I have the new Thule Rapid Aero Bar Package
I put in my Jetta TDi.
What would work on your car?
Try this neat rack configurator to see what you can get to work on your car!
My setup
The photos below show the Thule rack mounted to the aero bars. This isn't a factory setup, it took a little doing to make it work. It can also mount to the Thule round or square bars. I haven't tried it on Yakima bars, but I can't see why it wouldn't work. The great thing about this tandem roof rack is the way the front pivots so you can load your bike. You undo the pin that keeps the fork mount from swiveling while you are driving the car and turn it 90 degrees. This allows you to keep your rear wheel on the ground and mount your fork on the fork mount.
Nice dent in the rear door. My neighbor backed in to my car recently. It only had 1500 miles on it too!
Depending on a few factors you may or may not have to roll your window down so the chain ring doesn't hit it. Attach the little thingy that goes between your handlebars and seat (I lost mine shortly after getting the rack) which prevents the handle bars from turning. Tighten down the fork mount and pick up your bike by the rear wheel. Set the rear wheel in the tray, clamp it down and replace the pin. Couldn't be easier!
The best thing is that you are never picking up more than 1/2 the weight of the tandem. If you lose the attachment that holds the bars straight you just have to be more careful so when you are lifting up the tandem the handlebars don't rotate on you. This is like a wet noodle if they do.
The tandem stays in the rack at the back with a velco strap that is attached to the rear portion of the tray. A super nice thing that shows Thule put some thought into this is that the rear "extender" can be taken off with the removal of a pin and you can use the tandem roof rack as a single bike rack. How cool is that?
One thing to note is that if you have a small hatchback car or small SUV, you should be careful when opening the rear hatch because it can hit the extension part for the rear wheel of the tandem. Don't want to blow out your rear glass. (right dear!)
Search this site
---
---
What's your passion?
Why not share that passion with other people? The company we use to get our message out about tandem bicycles has wonderful tools and support.
Unlike many web hosting companies, SBI goes beyond just "putting up a site" and shows you how to run it like a real business.
With comprehensive research tools, unbelievable instruction on how to make the most of your ideas and better than you can believe support they are the right answer to help you share your passion, no matter what it is, with the world.
Click here to get more information about SBI and how they can help you.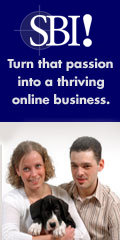 ---
---