Just what does a tandem stoker do? What is expected of you by your captain?
Are you the tandem stoker? If so, read on so you can know just what is expected of you.

Being a stoker can be very rewarding. You can let go of some of your constant attention that is required on a single bike and get more into the pleasurable part of riding a bike. You will see more, hear more and find it is a totally different experience. Now don't take that as a pass to just sit there and not do any work. You are a vital part of a team. You both have to work together to make the tandem ride go smoothly.

Here are some of the things you are expected to do as a stoker:
pedal
reads cue sheets
open power bars
pinch the captain when s/he fails to call out bumps
and lastly, enjoy the scenery around the bike which the captain is too busy to see.
The tandem stoker suffers in the captain's "wind". Sure, the stoker gets to see the captains back for the whole ride, but provided the stoker's neck works ok, he/she gets to look around a lot more than the captain, who's up front keeping an eye out for bumps, dogs, squirrels and other things that can ruin a ride. Another added bonus is the stoker is free to answer the inevitable cell phone call from your kids that wonder what you are doing, when you will be home and why do I have to go to bed so soon? The stoker also can have easy access to the captain's pockets so the captain doesn't end up dropping their iPhone on the ground like is bound to happen.
Most importantly the stoker trusts the captain completely. If this trust isn't there, the team won't last.
Some big don'ts as a tandem stoker:
The stoker does not make sudden unexpected movements
The stoker does not stop pedaling without first telling and receiving confirmation from the captain. This doesn't apply if you have an independent drive tandem like we do but I thought I better include this so someone doesn't get yelled at by their spouse.
Riding a tandem can be a very rewarding experience to be shared by two (or more) people. It can really bring a couple or family together in ways you won't get by just riding around together on your single bikes. Being a tandem stoker is something you should be proud to be a part of.
Search this site
---
---
What's your passion?
Why not share that passion with other people? The company we use to get our message out about tandem bicycles has wonderful tools and support.
Unlike many web hosting companies, SBI goes beyond just "putting up a site" and shows you how to run it like a real business.
With comprehensive research tools, unbelievable instruction on how to make the most of your ideas and better than you can believe support they are the right answer to help you share your passion, no matter what it is, with the world.
Click here to get more information about SBI and how they can help you.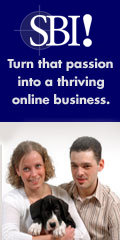 ---
---