Put the headline here.
We hope you enjoy the tandem photos
Team Dollins 2 x 2
by Kevin T.
(N. MN.)
Team Dollins 2 X 2
When our kids were little we quickly realized there are few sports you can do with little kids. We bought out first Gitane Tandem when our now 30 yr. old daughter was born. I made trailer later that year to carry her in, rather than the Gerry carrier she road in on my back (I know, it sounds insane in today's world!) and she road there for the next 4 yrs, until her brother was born. Then we bought a Cannondale bugger, which worked for 2 yrs. until our then 6 yr. old's legs stuck out the back of the trailer. We sold the Gitane, with it's sloping rear seat tube and bought a Burley Duet. I brazed up a Kid crank and then nobody wanted to ride in the trailer! That winter I welded 2 bikes together, installed a eccentric BB and set it up for my wide adn daughter to ride. All that to say that I've "infected" our kids for life with a great sport.


When Son-in-Law came into the family he was also innoculated with Bike-itis and I found them a used Raleigh tandem, which they road for about 4 yrs. until Grandchild 1.0 came along. Grandpa found them an Adams Trail-a bike single and that lasted until G-child 2.0 came along and grew to riding along stage. Then grandpa found 2 seater Acams on CL. 2.0 is still too small to reach the cranks, but she rides along in the child seat mounted to the rear. The family that bikes together...well, rides together!
Search this site
---
What's your passion?
Why not share that passion with other people? The company we use to get our message out about tandem bicycles has wonderful tools and support.
Unlike many web hosting companies, SBI goes beyond just "putting up a site" and shows you how to run it like a real business.
With comprehensive research tools, unbelievable instruction on how to make the most of your ideas and better than you can believe support they are the right answer to help you share your passion, no matter what it is, with the world.
Click here to get more information about SBI and how they can help you.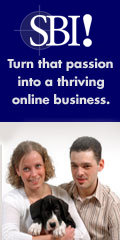 ---
---