A three wheel bicycle you say? What could be more fun! Come along and see what they are all about.
Three wheel bicycles, also known as trikes (can also call them 3 wheel bicycles as an alternative) are a very interesting vehicle. Most you will see are built along the lines of two wheels in the front and low slung like a recumbent

and not the more traditional one wheel in front, two in the back like your children's tricycle. A 3 wheel bicycle can be a great way to get around to and from work (link to commuting articles?), take leisurely tours or just cruising around. An alternative use for a trike is in theindustrial setting. Many large companies find the industrial bicycles are a cost effective alternative to electric carts or gas powered vehicles to get around their plants. It speeds transit time in the factory and give the workers some exercise.
Search this site
---
---
What's your passion?
Why not share that passion with other people? The company we use to get our message out about tandem bicycles has wonderful tools and support.
Unlike many web hosting companies, SBI goes beyond just "putting up a site" and shows you how to run it like a real business.
With comprehensive research tools, unbelievable instruction on how to make the most of your ideas and better than you can believe support they are the right answer to help you share your passion, no matter what it is, with the world.
Click here to get more information about SBI and how they can help you.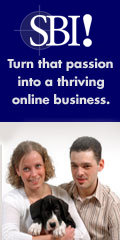 ---
---