A trailer cycle is a good solution for those who want more stability than a regular trail-a-bike.
A trailer cycle is perfect for handicapped children and adults

Is the

trailer cycle

is the right answer for you?

Do you have someone you want to take along on your tandem rides but they just can't quite ride on a trail a bike?


Do you have children like mine that can't sit still to save their lives? Do you long for the days when you could set them down and they would be in the same spot you left them?

Granted, they were 3 months old then, but still, you were still sane then.

Designed to be ultra-stable and safe, this trailer will work for special needs children as well as other children. A seatback is available as an option. You can get one of these at a company called Pedal Cars and Retro Collectables.


There is also a model of a trailer cycle that has a little different configuration as far as handlebar placement that works better for older kids and adults.


This is a very unique vehicle and warrants its own section of the page. A company called Zigo makes a solution that provides the owner with a total solution for getting around and getting their children around.
The mode that is most intriuging is the carrier mode. The driver can put the children in the frontwhere they are easier to see and communicate with. The kids get a great view of the road and what is going on around them.
The owner of the Zigo can, with relative ease, change the carrier from a vehicle that transports the kids in the front to a jogging stroller that you can push around instead of pedal. This is partiuclarly handy if you ride somewhere, need a stroller and don't really have any way to take a stroller with you on your bike. Simply lock up the bike portion, lower the front wheels and lock the handle back. You have your
stroller. When you are all done with your errands. Go back to the bike portion of your Leader, flip up the wheels, lock back the handle and hook your bike portion back up. In 30 seconds you can be on your way.
There are quite a number of accessories you can get for this very unique vehicle.
If you want to make the child carrier portion of the Zigo Leader into a trailer that will work with a standard bicycle, you can get a trailer kit that will adapt it over to your bike. This would then free up the bicycle portion of the Leader for
another person to ride as a single bike. Here's what the single bike looks like when used by itself.
Incliment weather can always be a possibility when you live somewhere other than San Diego. If you do need to go out and there is a chance of rain, the environmental cover will keep your precious cargo safe and dry. I'll put a picture of this up as soon as I get one that is a good representation of the cover.
With the trailer cycle solution offered by Zigo you really can affordably get another bike and the carrier you need for your kids.
Yet another design of the trailer cycle is the Hase Trets pedal trailer. If you have a child with a handicap or a special need, this trailer will get them out with you and riding. As the child has the ability to pedal and change gears, there is some freedom for them but peace of mind for you that they are totally safe behind you.
Here's a real shot of one of these trailer cycles in action.
click on the photo for more info.
The stability is terrific with the camber on the wheels giving it more stability over a vertical wheel orientation.
You can find out more information about these trailers from this distributor in the United States, PBWbikes.com. Their website is www.pbwbikes.com. (tandem bicycle central has no affiliation with this company)
Search this site
---
---
What's your passion?
Why not share that passion with other people? The company we use to get our message out about tandem bicycles has wonderful tools and support.
Unlike many web hosting companies, SBI goes beyond just "putting up a site" and shows you how to run it like a real business.
With comprehensive research tools, unbelievable instruction on how to make the most of your ideas and better than you can believe support they are the right answer to help you share your passion, no matter what it is, with the world.
Click here to get more information about SBI and how they can help you.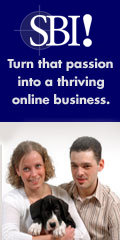 ---
---